Typical case
Case 1: In-depth internet intelligence monitoring. Advanced risk management.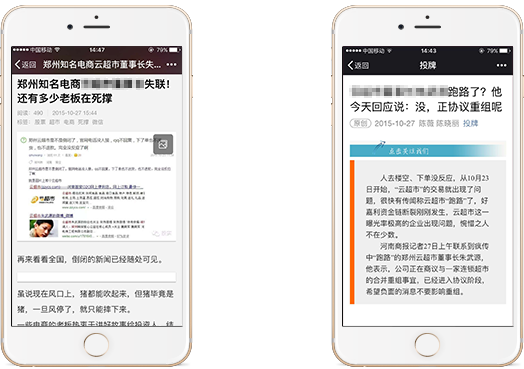 Today's internet is an era where new-fashioned internet social media has gradually replaced traditional media channel. Their characteristics are widely welcomed by mass market, speedy propagation with powerful result yet fragmented and concealed. As shown in the diagram, in September 2015, there was an article on a local O2O company in Henan Zhengzhou which was circulated crazily and swiftly among local's community via WeChat. It took quite a long while till the company realised the problem, identified relevant media for explanation and stopped the rumor. However, the damage to the society and to the economy was severed and couldn't be reverted. Farseer's depth public opinion monitoring system not only able to analysis and track on regular websites/forums/communities, it can effectively monitor the more subtle yet influential posts, blog or even WeChat messages, which is essential to corporates nowadays.
Case 2: Big data industry intelligence monitoring. Victory in vision.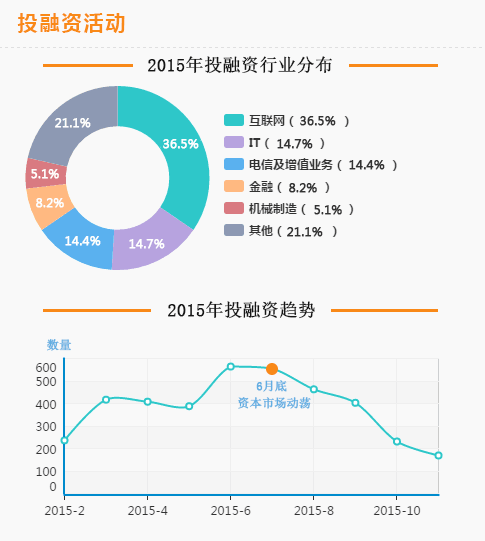 Modern enterprises face an enormous amount of data and information when making important decisions, yet analysing them is a very time consuming task. Making wrong decisions with limited time or spending too much time analysing data and miss the best decision window are both not acceptable.
Farseer contains a big data analytics system across many industries, can facilitate enterprises to make right decisions at a timely manner. Our system indicated that private equity investments post recovery of the June 2015 equity market crisis remains low, a very good example of how we can help clients to identify right decision windows at all investment cycles.
Case 3: Industrial competitors analysis and monitoring

Farseer big data system analyzes intelligence from across news, searches, social data etc. of a wide spectrum of industries down to company level, that's how we have timely sector intelligence to share with clients for advanced decision making. Similarly, through intelligence monitoring of competitors on a regular basis, clients can have a good control of their core competency to make relevant and most importantly right decision.